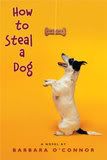 I received the following lovely email yesterday:
Jill, from the Well Read Child blog, asked a discussion question this week. She wanted to know what book we couldn't live without in our classroom.
Thought you might like to see my response:


This fall, I used HOW TO STEAL A DOG as a read aloud with a group of struggling fourth and fifth grade readers. Georgina, the main character in the book, is living in her car with her mother and younger brother in their car, because her father has abandoned the family. She decides to steal a dog and use the reward money to help her family get an apartment.
My kids LOVED this book. My school is in a pretty tough neighborhood- we have lots of single parents and grandparents raising grandbabies, parents without jobs, family members in jail, foster care, being evicted from apartments, etc. My kids, I think, came away with the life lesson that sometimes good people make bad choices. They also, I think, felt comforted that there were other people surviving the same hard lives that they have. Four months later, they are still talking about this book.
You know, writers so often send their creations out into the world and then lose track of them - never knowing for sure how their work is influencing (or not) the very kids they create for.
So it's great to hear from teachers or others who work with kids and to learn about how my work is being received out there in the real world.
THAT was definitely a made-my-day email.